County Meath Exam Preparation
CO. MEATH EXAM PREPARATION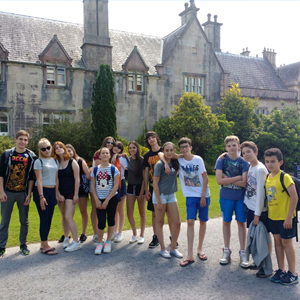 This programme is aimed at young people from 15 to 17 years old and takes place in County Meath, which is also known as The Royal County, where the seat of the High King of Ireland used to be. Situated in the east of Ireland. County Meath has a very rich cultural heritage and many places of interest, such as Trim and Killeen Castles and large Megalithic passage graves like Brú na Bóinne, designated as a World Heritage Site by UNESCO in 1993 and many others.
This Linguistic immersion programme is focused on:
Culture
Be part of a wonderful new culture
Experience
Enjoy a life changing experience
English Course
30 sessions a week (1 session-55 minutes)
9.30-13.00
13.45-16.15
All classes are focused on preparation for Official Cambridge Exams B2/C1. To access the programme a minimum B1 level is required.
Dates
Summer: July.
July: 3 or 4 weeks.
Location
County Meath, Ratoath area and surroundings, situated 25 km from Dublin.
Accommodation
With carefully selected hospitable and experienced host families.
Full board: breakfast, packed lunch, dinner and snack before bedtime.
ALWAYS individual room.
ALWAYS with an Irish 'brother' or 'sister' of the similar age and with the same hobbies as our student.
Only one student of any nationality is placed in a family unless an alternative arrangement is requested.
Activities
Sport, leisure and excursions.
2 free afternoons a week (Wednesday, Friday).
Excursions on Saturdays.
Host Family Time
Once classes and activities are finished, the students are taken back home to their families by private transport organised by EGA. Living with a family is the best way to practise English and learn about local culture and traditions.
Transfers: group or individual transfer available (Dublin airport).