Academic Year & 10/15 Weeks
ACADEMIC YEAR & 10/15 WEEKS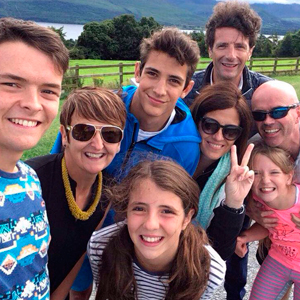 These programmes are recommended for those students who want to perfect their level of English. They will have an opportunity to practice and develop fluency in English as well as learn about new cultures and make new friends. This is also an unforgettable experience for personal development when facing new situations in life.
This Linguistic immersion programme is focused on:
Culture
Be part of a wonderful new culture
Experience
Enjoy a life changing experience
English Course
EGA International offers this programme to private and semi-private schools. These schools could be male, female or mixed and any of them can be requested but it is always subject to availability. Total price includes school registration fees, uniform, footwear and books. The local coordinators will send a monthly report about the student´s life in Ireland. They will rate the adaptation of the student to Irish culture, family life, school life, etc. As well, and depending on the Irish schools´ evaluation dates, we will provide you with the student´s school marks and the personal opinion of the teachers.
Dates
10 and 15 weeks programmes take place during the first term of school, from late August until December.
Full year programme dates are: from August until May.
Location
County Kerry
Our towns: Killarney, Killorglin, Tralee & Listowel
Accommodation
In carefully selected hospitable and experienced host families. We know each family in the area personally, so our students are always be in safe hands and treated as a member of the family.
Accommodation includes:
Full board: breakfast, packed lunch, dinner and snack before bedtime.
ALWAYS private room.
ALWAYS with an Irish `brother´ or `sister´ of the similar age and with the same hobbies as our student.
Only one student of any nationality is placed in a family unless an alternative arrangement is requested.
Families will have constant interaction with students guaranteeing an improvement in English.
Irish educational system
There is a common framework in the European education system, but for matters of courses validation we advise you to consult the school your child is attending or even your country´s Ministry of Education.
Host Family Time
Living with the family is the best option for practising English and learning about local culture and traditions. The family homes are spread over a wide area making it almost impossible to meet students of the same nationality.
Our families are responsible for the entertainment of the student and weekend planning. Our students are always placed in the same house with an Irish brother / sister of the similar  age and with the same hobbies. The families will have constant interaction with the student and they will  always be treated as a member of the family.
Transfers: group or individual transfer available (Dublin, Cork airports).