County Cork Junior Residence
CO. CORK JUNIOR RESIDENCE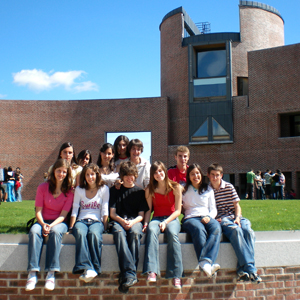 Cork City is Ireland's second largest city and is a lively and vibrant centre with all the attractions a modern city has to offer young visitors. EGA International provides excellent group Residential Courses, based in Cork City College of Technology with modern and well-equipped residential accommodation.
This Linguistic immersion programme is focused on:
Culture
Be part of a wonderful new culture
Experience
Enjoy a life changing experience
English Course
15 classes of English language tuition.
Monday – Friday.
Between 8 and 14 students per class.
Qualified native EFL teachers.
Course Completion Certificate.
Location
Based in Cork City College of Technology Campus with modern and well-equipped residential accommodation.
Accommodation
Full board residential accommodation in individual or twin room apartments, on campus with self-service laundry. Entrance to student rooms is only possible with a personal swipe card.
Cork City Bus Pass.
24 hour medical service.
Supervision by college staff
Coach transfer-Cork airport/campus/Cork airport.
Bed linen and domestic towels provided.
The International campus has a full range of modern academic and extra-curricular facilities. These include audio-visual classrooms, libraries, cafeterias, function rooms, theatres, shops, gymnasium, medical centre, banks, swimming-pools, athletic tracks and stadiums.
Activities
The course includes a wide range of academic and extra-curricular activities which are focused on the cultural and language aspects of the student's stay in Ireland.
Sports: basketball, football, volleyball, swimming, table-tennis, athletics, aerobics.
Mobile phones, iPod etc. cannot be used on campus between 9.am – 2pm. Monday to Friday.
Supervision
Supervision is 24 hours a day. Every student can contact their group leader and/or the Course Director at any time during the day or night. 24 hour CCTV and campus security staff.