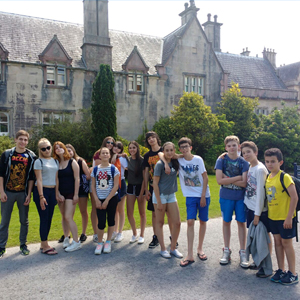 Summer language immersion program for young people aged 14 to 17 years developed in County Kerry, located in the south-west of the Republic of Ireland. We have been working in this area for more than 15 years, for their safety, for being a unique and special destination, for its incredible landscapes, for its tourist attraction, for its people and for its history. All this guarantees a unique and unforgettable experience.
This Linguistic immersion programme is focused on:
Culture
Be part of a wonderful new culture
Experience
Enjoy a life changing experience
English Course
25 hours per week
9.30-13.00
13.45-16.15
All classes are focused on preparation for Official Cambridge Exams B2/C1. To access the programme a minimum B1 level is required.
Dates
Summer: July.
July: 3 or 4 weeks.
Location
County Kerry
Killarney, Killorglin, Tralee & Listowel
Accommodation
With carefully selected hospitable and experienced host families.
Full board: breakfast, packed lunch, dinner and snack before bedtime.
ALWAYS individual room.
ALWAYS with an Irish 'brother' or 'sister' of the similar age and with the same hobbies as our student.
Only one student of any nationality is placed in a family unless an alternative arrangement is requested.
Activities
Sport, leisure and excursions.
2 free afternoons a week
Excursions on Saturdays.
Family days on Sundays
Host Family Time
Once classes and activities are finished, the students are taken back home to their families by private transport organised by EGA. Living with a family is the best way to practise English and learn about local culture and traditions.
Transfers: group or individual transfer available (Dublin airport).