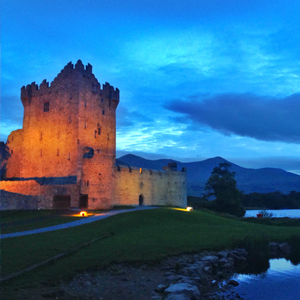 Killarney is situated in the south-west of Ireland. It has a population of about 17.000 inhabitants and it´s one of the most beautiful areas in the country.
Our General English Courses are designed to offer adult students the opportunity to attend top quality English classes in small groups and have the flexibility to experience all that makes Ireland so very special. We adapt our services to customer needs, so our programmes can be completely personalised.
This Linguistic immersion programme is focused on:
Culture
Be part of a wonderful new culture
Experience
Enjoy a life changing experience
English Course
15 hours a week in groups:
Timetable: 9.00-13.00, Monday to Friday
Maximum of 6-8 students in a group.
One to one:
We can also offer private classes with Irish teachers.
*It is also possible to combine group and one to one classes.
Dates
Summer: July.
July: 2, 3 or 4 weeks.
Location
County Kerry
Our towns: Killarney, Killorglin, Tralee & Listowel
Accommodation
Accommodation is arranged with carefully selected and monitored host families which provide private room accommodation, breakfast and evening dinner Monday to Friday.
All meals at week-ends and laundry.
Only one student of any nationality is placed in a family unless an alternative arrangement is requested.
Activities
Types of activities in the afternoons include cinema, cycling trips in the National Park, excursions, etc.
Host Family Time
Living with the family is the best option for practising English and learning about local culture and traditions. The family homes are spread over a wide area making it almost impossible to meet students of the same nationality.
Transfers: group or individual transfer available (Dublin, Cork airports).