'Welcome to Ireland', a red-haired customs officer said as he smiled at me and stamped my passport… That's how my little great adventure on the Emerald Isle began.
The moment I went through the gates of Dublin's airport, the famous Irish rain embraced me as a welcome, while a smooth breeze fuzzed my hair. I was really excited and a little nervous about what was waiting for me.
My name is Jenny and my background is Russian, muscovite to be precise. I have been working in Spain for several years, and summer past, a unique opportunity arose to experience, in person, a wonderful little piece of green earth, where I supervised a group of Russian kids that were on a language immersion trip in Ireland, with one of EGA International's English programmes.
Have you ever heard of 'County Kerry'?
From the first moment, I was hypnotized by its unique beauty: green mountains, gingerbread like houses, magical lakes and rivers whose waters, like they say, "flow upwards" … appealing, right? Well let me tell you about its amazing National Park, filled with powerful trees… it definitely makes you feel tiny. You can take a walk or bike ride along one of its many paths, something highly recommended if you want to see more in less time. O'Sullivan Cycles, located in the wonderful town of Killarney, would be delighted to rent you some bikes for a very cheap price. I can assure you that the moment you begin the route you will distance yourself from the complex reality of today's world.
EGA Interntaional headquarters is located in the town of Killarney, but we also operate in other parts of County Kerry such as Tralee and Killorglin. Tralee is the capital of Kerry, and both are truly beautiful towns.
HOST FAMILY
I personally experienced living with a 'host family' because both the kids and supervisors were placed there. Everyone, from the beginning, referred to them as 'my Irish mom' and 'my Irish dad'. It really sounds lovely… and so it was. Irish people are very charming, welcoming and have a very similar character to Spanish people. Believe me, as I am half Spanish.
My 'Irish parents' turned out to be a lovely, happy, smiley elderly couple, always willing to help me. My 'Irish dad' fished for salmon and trout on the Kilarney lakes, and my 'Irish mom' prepared them for dinner, with aromatic herb dressings that she made herself. Their cuisine was elaborate, mainly using vegetables and fruits from their own garden and orchard, accompanied by handmade dressings.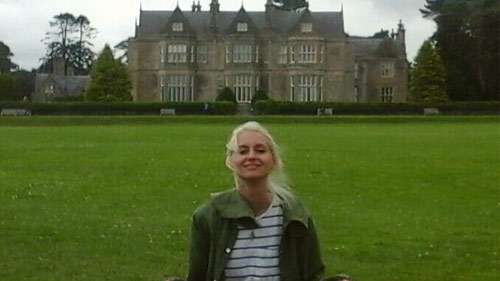 Every night before I went to sleep, my 'Irish mom' would cut chamomile or thyme leaves directly from her garden and she would prepare a nice warm broth to help me sleep well. It was amazing to sleep tucked in while breathing the fresh air from the National Park.
ACTIVITIES
'My Russian kids' went to class every day and afterwards we did different activities: bike routes, day trips, going to the movie theatre, wall climbing, canoeing… but no doubt the best activity for them was the day we went surfing. Even if the water was a bit cold, they fought it with enthusiasm, energy and neoprene suits.
On Friday, after a week of intense work, we would have fun at the disco in the town centre of Killarney. Even the shy instructors started to dance… so imagine how the kids enjoyed it.
At the weekends we had day trips to nearby cities where we enjoyed both the cultural tourism and shopping –  with control of course because Ireland is not a cheap country.
In the city of Cork, we enjoyed street music as local street artists painted beautiful murals on the ground and we walked the local street market and watched people dancing… the atmosphere was always very happy and lively. There is not a single pub in Ireland that does not have live music, either typical Irish music or rock music… they are amazing.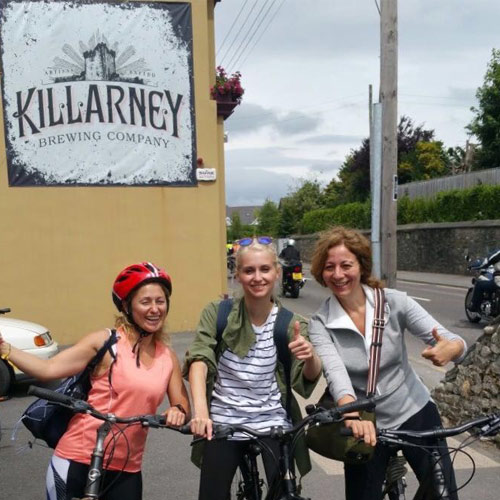 Outside the cities you can find enumerable castles and cathedrals which take you to another time. The contrast of the green fields with grey skies with a touch of the sun's rays through the clouds makes everything even more beautiful. This color scheme is very common in Ireland, but when the sun is out, everyone is beyond happy.
AN INCREIDIBLE EXPERIENCE
Every kid, Russian, Spanish, Chinese or German are happy no matter the weather. They not only improve their level of English but more importantly, they feel protected, taken care of and loved. There grows a true friendship that I am sure will last forever. The bond is so strong that they repeat it years later on their own… this year a Russian kid came to spend some time in Spain with one of his Spanish friends, and the Spanish kid will go to Russia at a later date.
Even if I was not very lucky with the weather (Irish people kept telling me that if they wanted to keep their island green it obviously had to rain), my trip turned out to be wonderful and I will remember every moment there.
My last morning there I stepped out into the garden of my 'Irish family' to enjoy one last time the smell of their flowers and aromatic herbs. That day the sun was shining brighter than ever and I reminded myself again and again… I'LL BE BACK.